Shipping info
Here you can find out everything about our shipping methods and costs.
How can I pay?
If you want to pay classically by bank transfer in advance, you are welcome to do so by bank transfer to our NussFee account. As a note, please always indicate the order number. As a note, please always indicate the order number.
Bank: Postfinance
IBAN: CH08 0900 0000 1547 1412 9
Communication:
Otherwise you can easily pay via our payment provider Payrexx with Postfinance card, TWINT, credit cards (Visa/Master/Amex) or Paypal.
If you store on an Android or Apple tablet or smartphone, you can pay even more conveniently via Apple Pay or Google Pay with a swipe.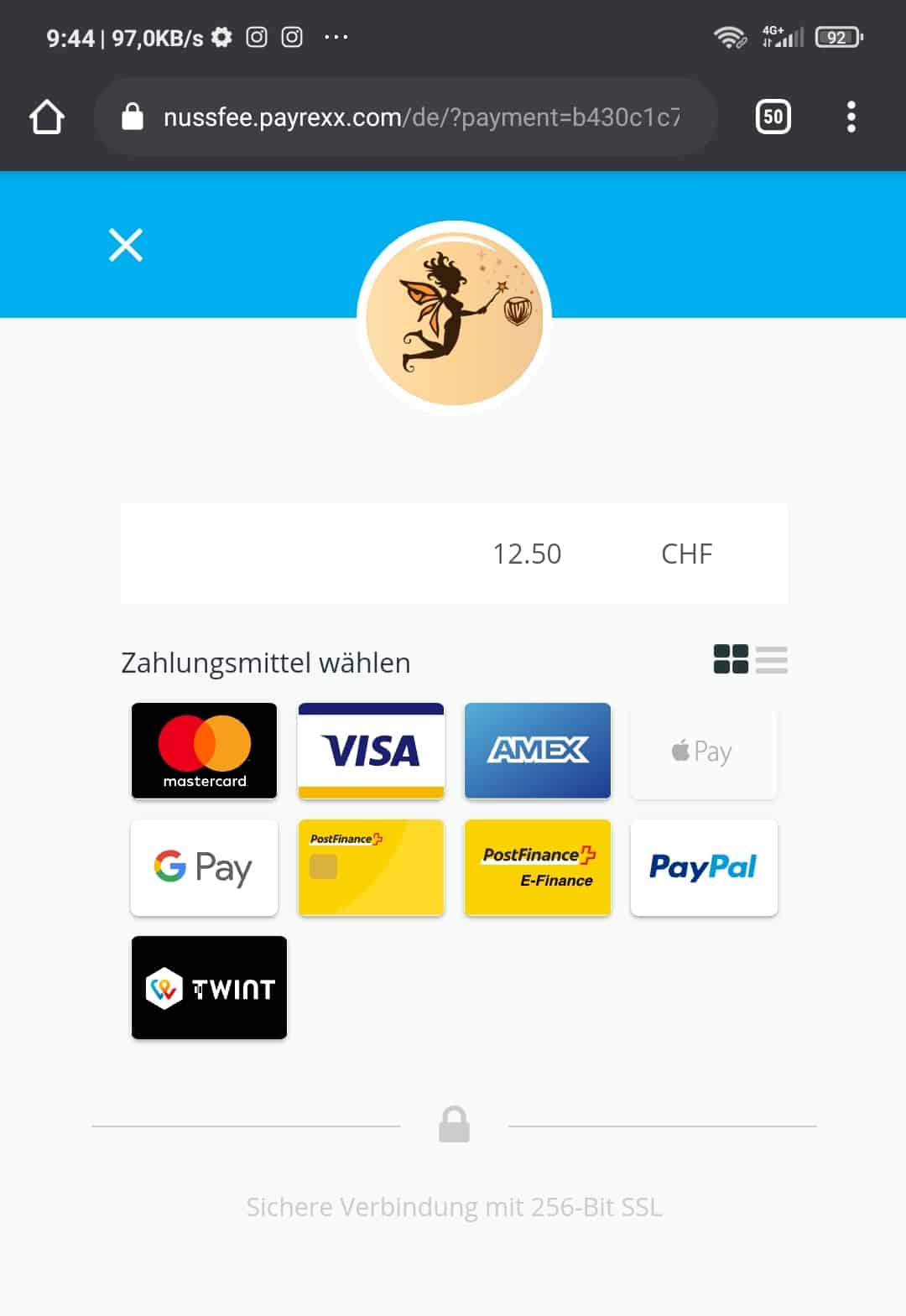 Alternatively, we also have a connection to the Paypal payment service, where of course you can pay with Paypal but also via credit cards (e.g. if our standard payment provider has a planned maintenance or other technical problems)….
What does shipping cost?
We charge the following shipping costs, these also include our high quality, plastic free packaging.
Switzerland and Liechtenstein
DPD Home: CHF 7.90
DPD Comfort: CHF 8,90
With DPD Home, the parcel will be deposited in a safe place at your home, even without a signature, if you are not present. The parcel will be announced with a tracking number and you can easily reroute the parcel in advance (e.g. to your workplace or to a neighbor). Normally the package will be delivered the next day after handover to DPD. The package will be announced with tracking number and you can also reroute it in advance (eg to the workplace or to the neighbor). As a rule, the package is delivered the very next day after handover to DPD. Please use only if the storage location is also safe from theft!
A 100% CO2 compensation is already included.
With DPD Comfort, a handover is made possible only by signature, the driver makes several delivery attempts with advance notice and live tracking. Only after the second or third delivery attempt will the package be taken to the nearest Parcelshop and you will receive a notification. Normally, after handing over the package to DPD, it is also delivered the very next day. If you have ever had a package stolen, please prefer to order with DPD Comfort.
A 100% CO2 compensation is of course also included.
Can I pick up my package in person?
Our address is
NussFee
Al Ciòss 1
6677 Moghegno
Pick-ups are available at the following times:
How long does the shipping take and who do you ship with?
NussFee always packs your order fresh and